I recently upgraded to Lollipop 5.0 on Verizon for my Galaxy S5.
I keep now getting this annoying error message that I took a screenshot of.  It will show up when I'm not in SoundAbout sometimes such as browsing the Internet, etc.  It's annoying as hell.  Anyone help?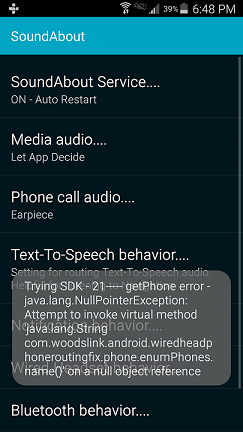 Posts

: 1


Join date

: 2013-09-25



Hi I have exactly the same issue. Did you know how to fix it? Thanks



Posts

: 3


Join date

: 2015-02-20



Same exact problem here. Any Dev input yet on this?



Posts

: 3


Join date

: 2015-02-21



Hey, I figured I'd just check out the beta version and that seems to fix the problem. Not a big fan of the beta version. Too many settings That I don't really know much about. I loved the regular version because it was very simple. Now I'm going to have to try all kinds of things to make sure it is set as I need. It's great to have all these other options, I just wish there was a dummy mode and advanced mode. That way we could just have the settings available in standard version. For me, more is not always better. Still, I thank the Dev for the app.



Posts

: 3


Join date

: 2015-02-21



What are you trying to do. If you are not using any of the extra settings you should be fine with setting just what you had previously.
Admin




Posts

: 1492


Join date

: 2013-04-26


Location

: Boston, MA



I have the same issue. How do you install the beta version? I did find another solution that resolved the errors, but then I couldn't get alarms/notifications to only play through the headphones (when plugged in), which is the main reason I started using this app.

**Update, I guess what I tried before was the beta version. Did I miss something in the settings?
Last edited by cajj on Tue Feb 24, 2015 2:09 pm; edited 1 time in total (Reason for editing : clarifying my first post)



Posts

: 1


Join date

: 2015-02-24



Admin




Posts

: 1492


Join date

: 2013-04-26


Location

: Boston, MA




---
Permissions in this forum:
You
cannot
reply to topics in this forum